From the First Note to Concerts.
The Music Studio for Little Prodigies! Awakening talents and creating unforgettable harmonies.
In Studio Lessons - At Your House Lessons - Online Lessons Private Lessons for students five years old and up
About Allegro Music Orlando.
Located in the heart of Orlando, Allegro Music Orlando is more than just a Music Studio - it's a community where art and talent come together.

Our commitment is to inspire and nurture musical passion in children, teenagers, and adults by offering high-quality lessons in a warm and motivating environment.

Every student is unique, and our dedicated Team of Instructors work to uncover and develop innate talents. Discover the joy and benefit of music and watch it blossom in your family at Allegro Music Orlando.
The "A" Team! A for Amazing!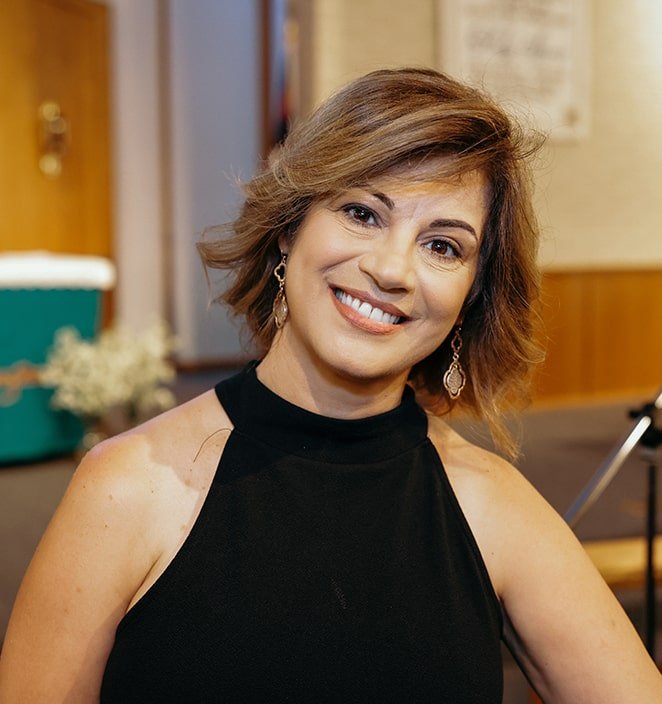 Studio Coordinator Piano Instructor
Mrs. DoCarmo is a music instructor, pianist and director of Allegro Music Studio. With over 35 years of teaching experience, Mr. DoCarmo guides her Amazing Team of Teachers to continue spreading the joy and benefit of music to children as young as 5 years old to teenagers and adults. Mrs. DoCarmo has her Bachelor Degree in Music Education with specialization in Piano Performance by the FAMUSC in Brazil, Concertism Studies with Dr. Terão Shebel, Technical Degree in Piano Performance by the Saint Cecilia Conservatory of Music in Brazil and is licensed as a Kindermusik Instructor. Since 1999, Mrs. DoCarmo has been teaching piano in Chicago, IL and in 2002 in Orlando FL. In 2010 Allegro Music Orlando started and since then hundreds of students have been benefiting from in person, online and at their own house music lessons. Mrs. DoCarmo is a former pianist of Downton Baptist Church and Music Ministry Assistant of the First Brazilian Baptist Church of Orlando.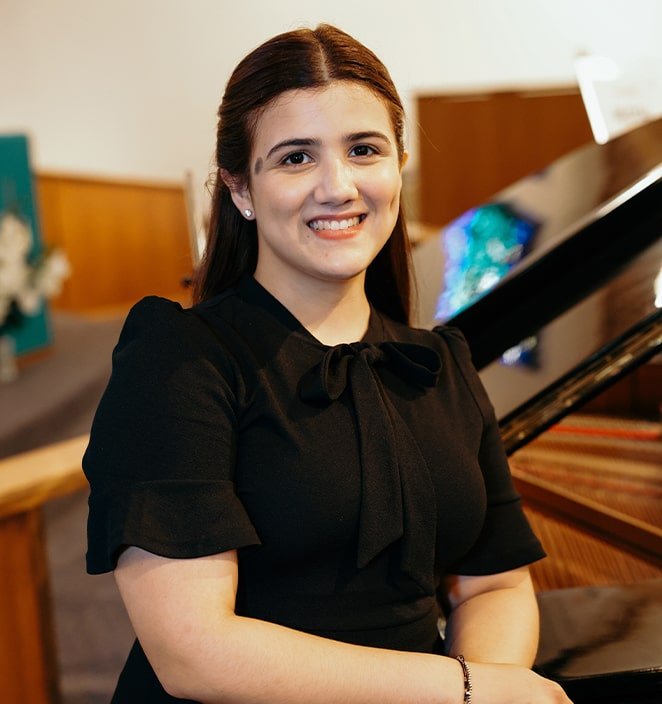 Piano and Voice Instructor
Ms. Gabriela Olarte is a sweet and full of energy piano and voice instructor. She has her Bachelor degree in Music Education by The National Experimental University Francisco Miranda in Coro-Falcon, Venezuela and her Piano, Harmony, Choir Practice and Music History by The National Musical School Juan Manuel Olivares in Caracas, Venezuela and from The School of Music Elias David Curiel and Cultural Choir Athenaeum. These are some of her special appearances: Piano Concerts at Carreno Theater, XVll Pianists Concert Festival with Bolivar University Chamber Orchestra and Cultural Choir Athenaeum. Ms. Olarte also performs as a singer and pianist for ceremonies such as weddings and graduations.
Piano and Voice Instructor
Mrs. Marron is a dedicated and a very creative teacher. She loves teaching music to young children and teenagers. Mrs. Marron has Bachelor's Degree in Music Performance with specialization in Piano and vocal pedagogy, Collaborative playing and Technology and Recording. Mrs. Marron has been teaching for year, creating and implementing lesson plans, developing curriculum, evaluating students performance and progress and conducting student recitals, both virtual and face to face. Also, Mrs. Marron served as Worship Team Director at Freedom Fellowship Church.
Piano Instructor - Online Instructor - Texas - In-person Instructor
Mrs. Olivia Chung (Mideum Chung) is a passionate and highly prepared piano instructor. She has a PhD. in Music from Florida State University, studying with the renowned Dr. De Cock. Master of Music University of South Florida, studying with Dr. Svetozar Ivanov, Master of Music Dongduk Women's University in Seoul, South Korea, Bachelor of Music Dongduk Women's University in Seoul, studying with Dr. MiJung Park, and Dr. Noel McRobbie Mrs. Olivia received the following recent awards. Steinway series "Art of Fugue" at Barness Recital of the University of South Florida, Tampa Music Festival 2020 Piano Solo Recital at the University of South Florida, Tampa, FL. 4th prize in the USF School of Music Piano Competition "In the Memory of C. Robert and Myrtle Passantino." Summer 2018, 2019 Honorable Mention for Osaka International Competition Regional Round, Atlanta. Currently, Mrs. Olivia lives in Texas and teaches in-person lessons to local students and online lessons to students in Florida.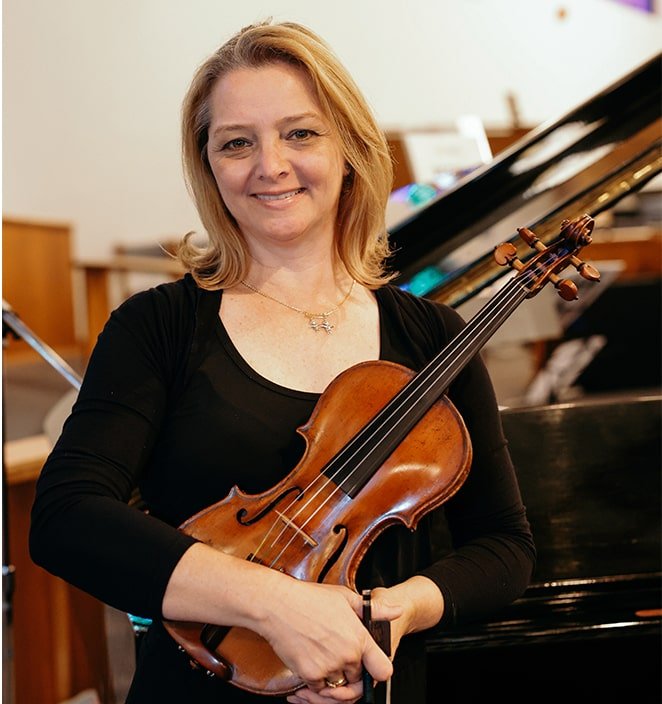 Mrs. Xemenes is an excellent musician and dedicated teacher with a Ph.D. in Musicology from the University of Kentucky, a Master of Music in Violin Performance from the University of Louisville, and a Bachelor in Music from Campbellsville University. Mrs. Xemenes has taught violin to children and adults since she completed her Suzuki Teacher Training and Orchestra Training from 2002 to 2006. Her experience led her to take responsibilities as Assistant Professor of Musicology for Campbellsville University, Teaching Assistantship at the University of Kentucky, Adjunct Faculty at Campbellsville University, and Concertmaster for the Campbellsville University Orchestra. Her Awards and Honors are Dissertation Enhancement Award, University of Kentucky, Full TA, tuition remission at the University of Kentucky, TORA Grant, tuition remission at the University of Kentucky, Full Tuition remission at the University of Louisville Cum Laude, Graduation at Campbellsville University, among others.
Guitar, Bass Guitar, and Acoustic Guitar Instructor
Mr.Castro is a committed and distinguished teacher, experienced in instructing children and adults of all ages in the elementary, middle, and advanced levels. He is a talented guitarist with over 44 years of experience and advanced technique. Mr. Castro received his Diploma at Parisi Musical Center, the renowned Music School in Sao Paulo, Brazil. Mr. Sidney has been teaching for over thirty years and has excellent success performing and instructing musical genres such as Blues, Country, Rock, Jazz, Reggae, and Funk. Mr. Castro has been performing in several Worship Bands and Choir Bands, studio recordings and live performances with bands and artists as Gospel Band GERD , Ron Kenoly, Jimmy Swaggart, and Petra.
Allow your child to develop their talent
Discover Your Talent: Music Lessons of Your Choice.
Allow your child to develop their talent
What do our students and parents say about our Studio?
What
benefits and skills
can my child acquire?
FAQ:
Everything You Need to Know About Our Music School in Orlando